A strong community.
Helping and supporting each other.
Giving and taking.
Allowing character to flourish with and among others.
Endowing values that endure.
Mastering and shaping lives.

Pupils, parents and staff develop a special relationship with Urspring during their school and boarding days. Many want to repay their debt of gratitude to Urspring. There are various opportunities open to those who do. The legacy of Bernhard Hell lives on – and continues to bear fruit.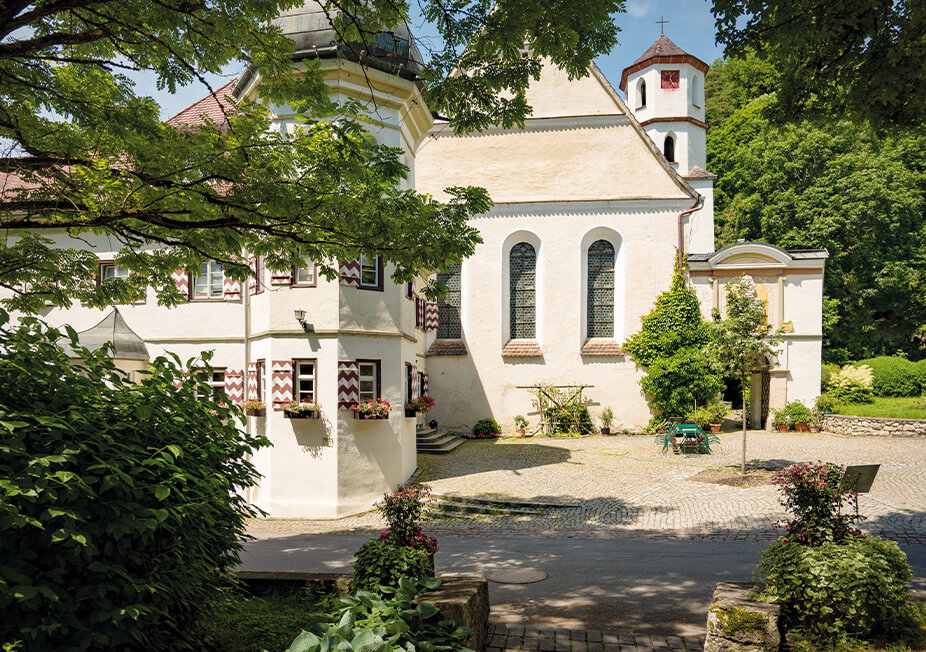 ENDOWMENTS.
From as little at €5,000 you can make a lasting contribution with an endowment and thus strengthen the Foundation's assets in the long term. The entirety of your financial contribution will be solely dedicated to the Urspring School Foundation. By increasing the Foundation's assets in this way, you'll be strengthening the financial and economic basis of Urspring School Foundation: For investments inthe development and modernisation of the school and to maintain the historic fabric of the buildings. Contact the School Management Team or the Foundation Board. Not only are the formalities extremely easy to complete, but your role as a benefactor will also be of lasting benefit.
DONATIONS.
The ongoing cost of operating the school and boarding facility is funded by a subsidy from the State of Baden-Württemberg and parental contributions. You can support Urspring School Foundation by means of donations which are used for fulfilling the school's current duties in respect of the objectives of its statutes. Help us to improve our capacity to spread knowledge and enthusiasm even more.
SCHOLARSHIPS.
Scholarships enable pupils to attend Urspring School even if their parents have insufficient means to cover the cost in full. Your contribution can strengthen the general scholarships fund or benefit an individual pupil.
A FRUIT-BEARING LEGACY
Urspring School Foundation.
In 1930, Bernhard Hell founded Urspring School Foundation in order to establish a progressive school on a charitable basis and with a Protestant ethos: "The purpose of the Foundation is to maintain Urspring School as a Protestant country boarding school where boys and girls from all sections of society are brought up and receive a secondary education."
f.l.t.r. Baumann, von Graevenitz (†2016), Palm, Fröhlich, Günther, Imlau, Müller-Hermelink, Deckwerth, Wetzler, Kuhn, Tiedje

Donations big and small and regular or one-off giving all help to uphold the idea behind Urspring School on into the future. There are a variety of options to choose from.
CONTACT
The Ga
ß

Family Foundation.

The Family Gaß Foundation uniquely and directly pursues benevolent and charitable purposes. In detail, these purposes refer to the support of vocational training, schooling and education as well as the support of those who, as a result of their physical, mental or emotional state, depend on the help of others.

The Foundation goal is realized by the assigning of scholarships, donations and awards to particularly suitable students especially from Baden-Wuerttemberg, and by supporting outstanding projects and initiatives.

The scholarships are to be primarily awarded to those students who, in addition to their schooling, pursue a vocational education.
The Urspring Liesel Müller-Hermelink Foundation.
Liesel Müller-Hermelink was one of Urspring's original members of staff. Even when she "retired", she lived at Urspring School until her death in 2004. Due to her long-standing affiliation with the school, her family instituted the Urspring Liesel Müller-Hermelink Foundation after her death in 2005.

According to the statutes of the Urspring Liesel Müller-Hermelink Foundation, the purpose of the Foundation is to use the proceeds "to implement outstanding projects and initiatives for the benefit of the school and of life at the school."
Urspring is a special Place.
For me, Urspring is a nice way of growing up in a sheltered environment and yet experience a great deal – thank you!
Katrin Weigand,
a former Urspring pupil who took her Abitur in 1997.